Maximum Strength Fast & Effective Nail Fungus Treatment: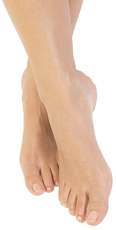 Fungavir™ was developed as an extra strength Non-Prescription nail fungus killer. This solution was formulated to treat the most difficult nail fungus to minor irritations. Our focus is to treat rugged active feet and hands to the most delicate toes and fingers. We discovered that by combining the proper amounts of active ingredients we could create an effective nail fungus treatment without the need to use prescription medication.
Fungavir's nail fungus solution is an innovative nail fungus treatment with specially formulated ingredients that have been rigorously researched and proven to work on the most stubborn cases of nail fungus. While most topical nail fungus treatments do not penetrate beneath the hard nail surface and may cause swelling and redness around the nail, Fungavir was formulated using ingredients that soak in and around the nail and get down to the core of the problem eliminating nail fungus while simultaneously soothing and healing the affected area.
The Top Nail Fungus Treatment That Really Works:
Fungavir is produced in the United States in a FDA registered laboratory that exceeds industry standards. Our manufacturing facility is GMP certified and follows the highest FDA guidelines. There are no side effects like in the harsh chemical nail fungus treatments prescribed by most doctors. Fungavir is made up of an all natural formula found to be safe for all age groups. Each ingredient was carefully selected and tested for its antifungal competency. Fungavir combines prescription strength ingredients in a proven system that treats and eliminates nail fungus while fostering new nail growth. For a full list of ingredients, click here.
Effective Nail Fungus Solution: You will feel results in 2-4 weeks
Promotes New Nail Growth
Highest Quality proprietary blend of Ingredients
A powerful formula with No Side Effects
Ships Out The Same Day As Ordered
Works on Both Toenail and Fingernail Fungus no matter what the cause
100% 60 Day Money Back Guarantee
Quality and Caring Customer Service
The Fastest & Safest Nail Fungus Treatment that Actually Works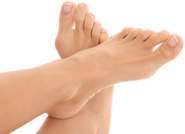 Fungavir stands above other nail fungus treatment attacking the root of the problem under the nail, while its powerful ingredients work to heal the area quickly. It works to alleviate the pain and unsightly discoloration associated with nail fungus and helps a new healthy nail grow in its place. Because the fungus is under the surface of the nail, most topical medications do not work. They usually cannot penetrate the thick nail. Other products put diluted amounts of effective ingredients causing the nail fungus to slowly go away, which means the customer has to buy more products. It's good business, but bad practice.

Doctors often prescribe anti-fungal medication that you swallow, but the side effects can be very dangerous and uncomfortable. They can cause liver damage, nausea, stomach pain and jaundice, to name a few of the problems. Even the prescription topical medications can cause redness, itching and sores. It is important that you pick your nail fungus treatment correctly or the symptoms could get worse. And, if you do not treat the nail fungus, it will get harder to heal and can spread.

Fungavir is a maximum strength double response nail fungus treatment. Fungavir attacks the core of the problem, underneath the nail, killing the fungus while working to heal the effected skin and nail. Fungavir is fast and effective implementing only the safest all natural ingredients with no known side effects. The old nail fungus treatments just don't work the same and can even make the problem worse. Why try less effective nail fungus treatments when Fungavir is a proven nail fungus treatment guaranteed to get rid of your nail fungus?
Get a Free bottle of Nail Protein & Cuticle Cream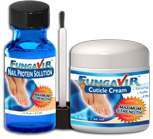 For a limited time, Fungavir is offering their Nail Protein and Cuticle Cream Free on select programs. Nail Strengthening Cuticle Cream (2oz) - To help strengthen and maintain healthy cuticles. (Designed to prevent cuticle damage and create an environment where healthy nails can grow.) Advanced Formula Nail Protein - strengthens and rejuvenates nails. (Speeds up nail growth and strengthens toenails & fingernails.)